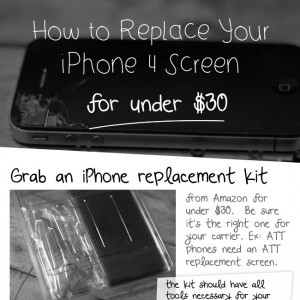 From day one I chose not to cover my iPhone.  Some may say or think it's stupid, but to me a cover ruins the phone. An iPhone's mix of it's sleek design, glass and metal make it a thing of beauty, one not to cover up.  Of course you have a greater chance of cracking or breaking it, but whats the fun if you're not going to use it and just cover it up so it looks like a goofy piece of rubber?  I've often heard people asking why I don't have a cover on it and tell me there are some that you can drop from a hundred feet in the air… but I don't care!  I'll fix the screen for $30 if I crack it or if it's within a year you can grab a replacement from Apple rather than your carrier, for FREE if you have a hardware issue with your phone.  I had mine replaced because the home button was sticking a little.  After that it's $149 for a replacement at the Apple store.  That's pricey, but if you take care of it up until you're ready for renewal you're golden. These are the reasons why I prefer not to buy a scammy insurance plan.  I know I can replace it inexpensively if I do something stupid.
To be honest, for the two years I've had my iPhone 4 I haven't covered it, which completely shocks my mother because she knows I've broken more phones than imaginable.  My girlfriend on the other hand cracked her iPhone 4 screen twice.  I figured I'd buy a screen and fix it myself after her second mishap.  It wasn't that hard.  You just need to keep the screws in order and place them on a flat surface in the same placement they came off in.  Here are some tips before you get started.
Grab a digitizer (lcd screen for your iphone)
from Amazon for under $30.  Be sure it's the right one for your phone. Iphone screens are different for Verizon and AT&T phones so double check!
Set aside an hour of your time
It can take anywhere from 15 minutes to an hour depending on how good you are at handling tiny screws and instructions
Find a flat surface with good lighting
Did I hint that there are close-to microscopic screws?  Find a flat well lit surface or you WILL lose something.
Keep track of screw pattern
When you take a screw off of your phone, place it on your table in the same pattern you took it off with the piece next to it so you remember where they go without looking at the tutorial for an hour.
Your Warranty will be void
Your phone warranty will be void after you complete this, so be sure you aren't worried about that before you start.  Just my opinion, but if you're already out of warranty than I wouldn't worry too much about it!
This is a guide to help you
I do not hold responsibility for anything that you may mess up.  In my opinion, this is  fairly straight forward operation, just a lot of little screws!